Overview
Event Overview
---
Grounding and lightning issues continue to be an important area of development for the electrical utility industry. New and better ways to design, construct, and test grounding and lightning protection systems are continuously being developed to meet evolving industry demands. The 11th Annual Grounding and Lightning Conference is an open forum for information exchange, technical presentations, and training. Discussions and presentations will address seven overarching themes that will benefit attendees and the industry as a whole.
Supported by over 30 participating utilities, the annual Grounding and Lightning Conference brings together leading subject-matter experts from around the world, while providing an exceptional opportunity for networking with consultants, manufacturers and representatives from electric utilities.
Themes
Lightning Protection and Performance
Substation Grounding
Personal Protective Grounding
Distribution and Transmission System Grounding
Copper Theft
Pipelines in Proximity to Electrical Power Lines and Structures
Power Cable, Control Cable, and Isolated Phase Bus Grounding
Attendance
Attendance
---
Register before July 30th and save up to $100 with our Early Bird discount!
This conference is an industry open event, with registration open to:
Electric Utilities
Consultants
Equipment Vendors
Research Facilities and Laboratories
Academics
This event is organized in coordination with the following Utility Participants.
Call for Abstracts
11th Annual Grounding and Lightning Conference
---
We are pleased to announce a Call for Abstracts for the 11th Annual Grounding & Lightning Conference. Experts are invited to submit presentation abstracts on one of the themes described below.
IMPORTANT – Abstracts are due by 4:00pm ET on March 14, 2019. A notification of acceptance will be provided no later than April 1, 2019. Abstracts shall be evaluated based on their applicability to the subject matter and their technical merits. Proponents are encouraged to emphasize work conducted for their electric utility clients.  (Approx. 300 words)
 
Theme Descriptions and Subtopics:
Lightning Protection and Performance
Lightning protection and the performance of electric utility systems are important to electrical utilities. This includes the safety of people and equipment, the response to outages, and the prediction lightning events. Of particular interest to transmission systems is the risk assessment and mitigation of lighting-related outages on existing transmission lines.
Substation Grounding
Presentation in this session with discuss proper design, construction, and testing of substation grounding systems, along with the software used for grounding system design and the equipment used in testing. Ground potential rise, along with step/touch and transferred voltages under electrical ground fault conditions, must be ensured during normal operating conditions and station construction activities. Maintenance practices, frequency, and prioritization are also important discussion topics. The risk of error resulting in unsafe conditions, both inside and outside the substation, is a concern for grounding engineers. Of particular interest are safety and the mitigation of transferred voltages onto the distribution feeder system during line-to-ground fault events at substations.
Personal Protective Grounding
The Personal Protective Grounding (PPG) presentations discuss current practices and methods, which are crucial to ensuring the safety of utility workers, general public, and equipment. Measurement and monitoring of induced voltages when working near energized power lines and ensuring safe work practices are of particular importance.
Distribution and Transmission System Grounding
All aspects related to grounding on both the distribution and transmission system are important to Grounding and Lightning Program members. Some of the issues being discussed include neutral isolation devices used on the distribution system, grounding in high resistivity and/or mountainous areas, distribution system grounding methods and standards, low-voltage system grounding, transmission line switch grounding, stray voltage on the distribution system, induced voltage on fences in powerline right of ways, current splitting under fault conditions between substations, and distribution neutral ground systems.
Copper Theft
Copper theft from utility grounding systems is a critical issue to Grounding and Lightning Program members. Of primary interest are prevention methods and techniques, including alternative conductors and installation methods. Other aspects of copper theft include utility experiences, as well as present and future risks to infrastructure, particularly as the price of copper is expected to increase significantly in the coming years. The monitoring and alarming of substation grounding is also of interest.
Pipelines in Proximity to Electrical Power Lines and Structures
During the installation of gas pipelines near transmission or distribution lines, it is critical to ensure adequate separation distance to protect both the pipeline and the powerline structures. Issues of potential concern include induction, arcing, and contact voltages as well as AC corrosion and its mitigation.
Power Cable, Control Cable, and Isolated Phase Bus Grounding
Power cables, control cables, and isolated phase buses are connected to a grounding system. HV power cables may include segmented grounding of the cable shield along with cross bonding between the phase sections to limit open shield voltages to a safe level. MV power cables may be installed with the concentric neutral grounded at both or one end to improve the ampacity rating of the cable. Instrumentation and control cables may be grounded to mitigate grounding problems due to high or low frequency interference. Power cable grounding methods, safety from open shield voltages, and thermal effects on grounded cable shields are of interest.
Presenter Guidelines
Presenter Guidelines
---
| | |
| --- | --- |
| Abstracts due | March 14, 2019 |
| Presenter acceptance / regret notifications | May 1, 2019 |
| Deadline for draft presentations | September 3, 2019 |
| Deadline for final presentations | September 24, 2019 |
Presentations should adhere to the Guidelines set forth by CEATI International.
Presentation Guidelines Include:
Presentations must be submitted in Power Point format (PPT).
Presentations will be distributed to attendees in secure electronic (PDF).
Page numbers must be displayed in the lower right hand corner of each Power Point slide.
Each Presenter will be allocated 30 minutes of presentation time.
Presenters may be asked to participate, as Panelists, in an Open Discussion concerning the session topic as well as their specific presentation.
Please note that all participants, including presenters, are required to register to attend.
Subsequent to submission, presenters may continue to revise presentations but must submit their revised files on flash drive or via email at a minimum of one (1) day in advance of their scheduled presentation time.
—
When you participate in a CEATI event, be it as an attendee, exhibitor, presenter, speaker, moderator or in any other capacity whatsoever, you will be participating in an event where photography, as well as video and audio recording is likely to occur.
By participating in the CEATI event, you consent to photography, audio recording, video recording and its/their release, publication, exhibition, or reproduction to be used for news, web casts, promotional purposes, telecasts, advertising, inclusion on web sites, or for any other purpose(s) that CEATI deems fit to use. You release CEATI, its officers, directors, employees and consultants, and each and all persons involved from any liability connected with the taking, recording, digitizing, distribution, or publication of photographs, computer images, video and/or audio recordings.
By entering the event premises, you waive all rights you may have to any claims for payment or royalties in connection with any exhibition, streaming, webcasting, televising, or other publication of these materials, regardless of the purpose or sponsoring of such exhibiting, broadcasting, webcasting, or other publication irrespective of whether a fee for admission or sponsorship is charged. You also waive any right to inspect or approve any photo, video, or audio recording taken by or on behalf of CEATI or the person or entity designated to do so by CEATI.
In addition, the event will be monitored for unauthorized recording. By attending the CEATI event or entering the event premises, you agree not to record or digitize any parts of the presentation, without CEATI's express written consent.
You have been fully informed of your consent, waiver of liability, and release before participating in the CEATI event.
Exhibitors
The Audience
---
Exhibition and sponsorship opportunities are available for the 11th Annual CEATI Grounding and Lightning Conference. This event will bring manufacturers and service providers together with key decision-makers in the industry. The conference has been organized with the support of CEATI's Grounding and Lightning Program (GLP), representing major electrical utilities from across North America and beyond. The event will present an excellent opportunity for targeted networking and exposure to potential clients, including a networking reception with an open invitation to all exhibitors and attendees of the conference.
EXHIBITORS
Breaks, Meals & Reception
All breaks and meals for the conference will take place in the main ballroom. This set-up provides a captive audience to showcase your company's products and services, allowing for more face-to-face time with attendees at the events. PLEASE NOTE THAT SPACE IS LIMITED. For more information, please contact [email protected]
Each Exhibitor Registration Includes:
Two Full Conference Registrations
Breakfast, Lunch & Breaks
Evening Reception
Skirted Table & Two Chairs
Discounted Additional Registrations
Conference Proceedings Package
SPONSORS
Sponsor Benefits Can Include:
Recognition at Opening of Event Acknowledging Your Support

Your Materials at the Main Registration Table

Inclusion of Your Logo and Click-Through Link on Conference Website(s)

Post-Event Exposure

Sponsorship of Event Meals or Breaks

Place Your Organization's Stand-Up Banner in the Conference Room
Exhibitor & Sponsor Promotional Tool Kit
We wish to extend a warm thank you to those organizations participating as an exhibitor or sponsor at our 2019 Conference! If you have any questions or would like to inquire about additional marketing tools we could make available, please contact us at [email protected].
Accommodations
Accommodations
---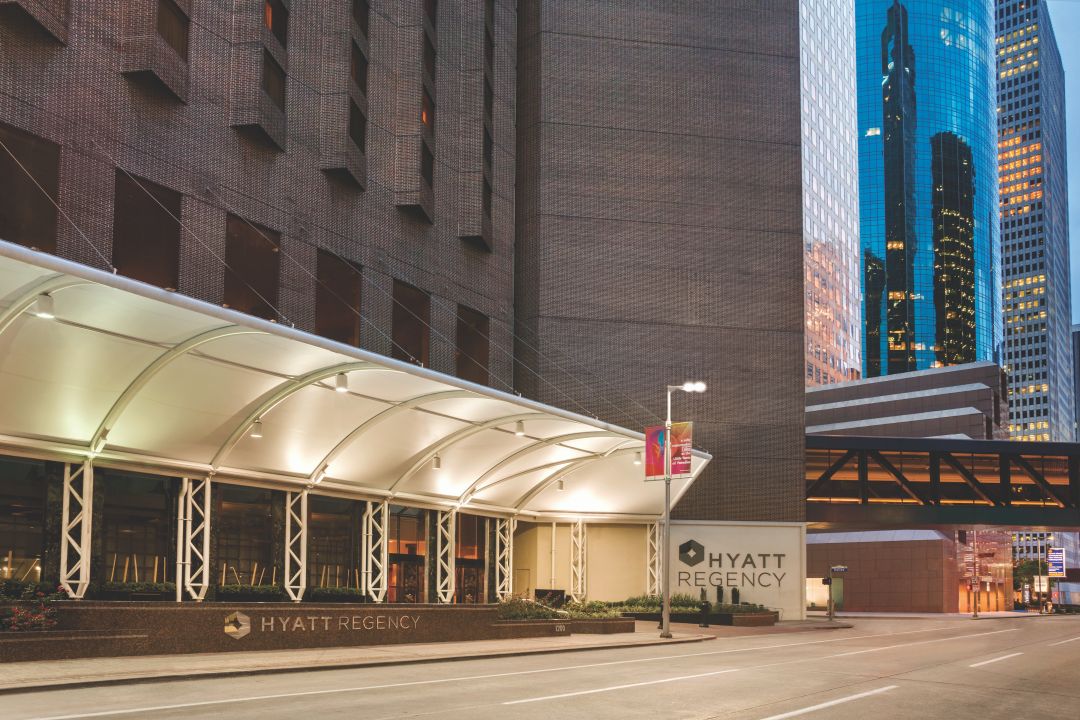 Hyatt Regency Houston,
1200 Louisiana St,
Houston, TX 77002,
USA
Preferred Rate: $132 USD (plus applicable taxes) – or prevailing government per diem rate.
To receive the preferred rate, please mention the special convention rate for the CEATI Grounding & Lightning Conference 2019. Preferred rate only available only until August 26, 2019 and subject to availability.
Reserve online here.
Housing Warning!
Unauthorized Housing Companies Contacting Exhibitors & Attendees. It has come to our attention that unauthorized housing companies have been contacting CEATI International exhibitors and attendees via email and phone and in general, misrepresenting themselves as an official housing vendor for CEATI International. Room registrations should be made directly with the hotel as described above.
We highly caution you from engaging unauthorized companies because if/when issues arise, CEATI International management does not have the ability to provide assistance in solving them.
Professional Development
Professional Development Hours
---
Did you know that by attending a CEATI conference, you could be eligible to use your attendance towards Professional Development Hours? A Certificate of Attendance is available to all conference attendees – simply check with your local accreditation body for more details on how to apply it towards their requirements.